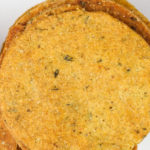 Prep Time: 15 minutes
Cook Time: 15 minutes
Serving: 3 People
Print
Nutrition facts

(per portion)
Nutrition facts

(per portion)
Calories: 1448 kcal
Carbohydrate Content: 201.96 g
Cholesterol Content: 0 mg
Fat Content: 57.79 g
Fiber Content: 8.7 g
Protein Content: 29.97 g
Saturated Fat Content: 8.952 g
Serving Size: 1
Sodium Content: 1179 mg
Sugar Content: 5.31 g
Trans Fat Content: 0.29 g
Mint Khakhra
Khakhara is a must-have dish in every Gujarati household. Khakhara is a perfect snack to enjoy with tea or coffee or whenever you feel hungry and want to have some light and healthy snacks. You can make a different kind of khakhara at home, like, masala khakhara, Panipuri khakhara, etc.
You can add your favorite taste to the traditional khakhara and make it more interesting. Here I am sharing a delicious recipe of mint khakhara. It is made with mint leaves, wheat flour, oil, salt, and cumin powder. Mint khakhara taste delicious and your kids, as well as other family members, will love it. You can also make it and carry with you during your trip or picnic.
Ingredients of Mint Khakhra Recipe
How to Make Mint Khakhra
Step 1: Wash the mint leaves, in a mixer jar add mint leaves, green chilies and grind them well.
Step 2: In a bowl, add wheat flour, cumin powder, salt, and oil and mix them well.
Step 3: Now, mix mint paste to the wheat flour mixture and knead a soft dough, cover it and keep aside for 30 minutes.
Step 4: Now divide the dough into equal portions and make small rolls from it.
Step 5: Roll out each dough portion into a 5" thin circle. Use little wheat flour if required during rolling.
Step 6: Now, heat the griddle and cook it from both the sides on the SLOW flame.
Step 7: Apply some oil while cooking the khakhara on the griddle. Now, with the help of muslin cloth press khakhra to make it crispier and browner. Repeat the procedure to the remaining dough to make khakhra.
Step 8: Once khakhara becomes cool, store it in an airtight container.
Step 9: Serve the tasty mint khakhra with hot tea or coffee.
Check Price for Ingredients
Add to Favourites