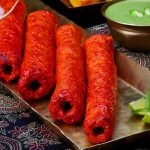 Prep Time: 60 minutes
Cook Time: 30 minutes
Serving: 5 People
Print
Nutrition facts

(per portion)
Nutrition facts

(per portion)
Calories: 6504 kcal
Carbohydrate Content: 604.17 g
Cholesterol Content: 1119 mg
Fat Content: 292.05 g
Fiber Content: 138 g
Protein Content: 373.16 g
Saturated Fat Content: 154.584 g
Serving Size: 1
Sodium Content: 15455 mg
Sugar Content: 288.39 g
Trans Fat Content: 3.278 g
Kakori Kebab
Kakori Kebab is an Awadhi cuisine; it is from the city Kakori situated nearby Lucknow city. Kebabs are an integral part of Awadhi food. There are several varieties of popular kebabs in Awadhi cuisine, Kakori kebab is one of them and most famous kebabs among the Nawab of awadh. The meat used to make kakori kebab is from the tendon of the leg of lamb, combined with khoya and spices. These delicious kebabs are so soft and tasty they just melt in your mouth. Try this mouth-melting and world's most delicate kebab today!
Ingredients of Kakori Kebab Recipe
How to Make Kakori Kebab
Step 1: Mince the lamb meat till very smooth then add papaya paste, powdered yellow chili, white pepper, cloves, mace, nutmeg, black cardamom, green cardamom, and cumin seeds. Mix these ingredients well.
Step 2: Now to give dhungar* to the mixture, put the meat mixture in deep pan and keep live coal in a small bowl in the center, pour two tablespoons of ghee on coal and quickly cover the pan. Keep covered for half an hour.
Step 3: Mix the pre-prepared coconut-onion paste, ginger-garlic paste.
Step 4: Add this mixed paste to the smoked mince. Set aside for another half an hour.
Step 5: Then after adding roasted gram flour to the meat mixture and blend well.
Step 6: Heat skewers slightly and grease and take a portion of mince mixture and spread on skewers with slightly wet hand into the oblong roll around the skewers.
Step 7: Roast on kabab griller on live coal for few minutes till they turn to a golden pink brown.
Step 8: Once the kababs are done take out carefully from the rods with the help of the cloth.
Step 9: Plate them on serving the dish and garnish them with onion rings, slit green chilies and fresh coriander chutney and serve hot.
Additional Notes:
Dhungar*
It's a quick procedure to flavor meat. The smoke permeates each ingredient of the dish and gives an aroma which enhances the dish taste and quality.
Check Price for Ingredients
Add to Favourites